Contact & Location information
phone: 252/728/6244 cell:252/723/7577
Email: atlantis@atlantischarters.net
Mailing Address:
145 Intracoastal Drive
Beaufort, NC 28516
BOAT LOCATION:
The Atlantis IV is docked on the left (east) side of the Atlantic Beach causeway, behind the 2-story yellow Harborside Mini Storage building. If you see the Captain Stacy Fishing Center you have gone 1 driveway too far.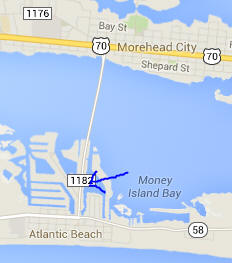 Season of Operation
We can run fishing charters and dive charters year-round.
Please visit our Calendar page for specifics.
Contact us for availablility in the 'off season' to make sure we are not involved in boat maintenance.