Diving
The Atlantis IV is probably the most comfortable dive boat on the east coast. She is 46' long, 16' wide and her cruising speed is 16 knots.
"Civilized Diving" - We have bunks to relax in, a climate controled salon, a clean head, fresh hot/cold water, a galley with microwave & refridgerator, a spacious cockpit and a diver-friendly ladder.
Every effort is made to provide you with the comforts of home. Diving North Carolina on the Atlantis IV is more than just the time spent underwater. It is also the ability to spend the your time on board our boat and enjoy the ride, the open ocean, and every adventure the day may bring.
Download our diving waiver pdf
CHARTER PRICES and DEPOSIT INFORMATION can be found on our Prices page.
A .pdf version of our dive brochure is available here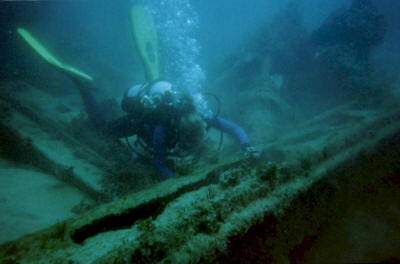 Buoy data for offshore conditions
Offshore fearcast (dwindling buoys due to NOAA funding decisions)